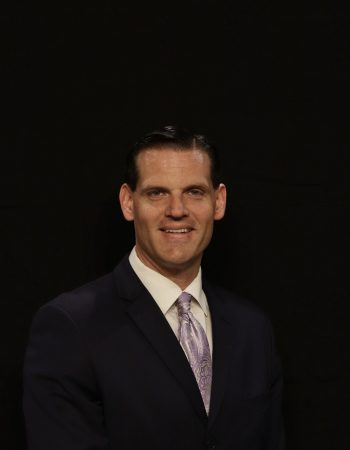 Greeting & Bio from Pastor Gregg:
Hello, and thank you for visiting our church website.  It is my privilege to be the pastor of the Ponderosa Baptist Church.  In 1980 I entered the world in the home of Dale and Terry Gregg, and I am so blessed to call them Dad and Mom.  The greatest day of my life occurred when I was 12, in the 2nd week of June, at a week long youth camp.  I, under conviction of sin, and not knowing where I would spend eternity, accepted Jesus Christ as my personal Lord and Saviour.  At the age of 19, there in Cleveland, I began to attend the Shenandoah Baptist Church, under the ministry of (my spiritual Paul who I love dearly) Pastor Steve Grubbs.  The gracious LORD allowed me to grow there and to have a great friend, Micky Lee.  A few months later, at 19, the LORD called me into the glorious ministry of preaching the Gospel of CHRIST.  Then, that amazing friend, Micky Lee, became my father-in-law on Dec 21st, 2002.  I married the beautiful and truly my best friend, Hannah Lee.  The LORD led us to Powell (Knoxville area), TN to train at the Crown College of the Bible under the influence and ministry of Dr. Clarence Sexton and the Temple Baptist Church.  I love Dr. Sexton and all he has done for me.  After graduating, the LORD led us back to Cleveland to serve with Pastor Steve Grubbs in the ministry there (I share these specific times in my life, because they mean so much to me).
In 2006, our first born came, Emma Rose Gregg.  In 2007, the LORD had begun to put into our hearts to go West for the Gospel of CHRIST.  We visited a few states, preached in churches that needed a pastor, and looked at areas needing a church.  By the fall of 2007 we knew the LORD was leading us to start a church in Flagstaff, AZ.
May of 2008, we arrived to our new home, Flagstaff.  We had our first service on the last Sunday of June in 2008 at the Little America Hotel.  O blessed day it was.  The next few services it was Hannah, Emma, and me.  Faithfulness is key to being a steward of the Gospel of CHRIST.  The LORD has blessed us as we have moved five plus times, from having house church, school church, rec center church, storefronts, and to now our own home, "The Miracle on Main Street."  The Church is no building anyways… it is the Body of CHRIST on earth!  The most powerful, important thing going on in every town.
Through the ministry here Hannah and I have been blessed to have a wonderful family.  We have four precious girls.  Emma Rose, Sadie Anne, Maddie Grace, and Callie Marie.  We get to enjoy them as we serve the LORD.  Serving the LORD is a family service.  It shouldn't be any other way for anyone.  Parents are to bring the family along with them.
This great journey with JESUS is worth it all.  Please pray for us, and if there is anything that I can do to be a help, please let me know.  Who knows just what the LORD is able to do with you as you give yourself to HIM.